5 Things to Do Before Your Abatement Job Begins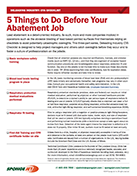 Lead abatement is a detail-oriented industry. As such, more and more companies involved in operations such as the abrasive blasting of lead-based painted surfaces find themselves relying on checklists to avoid potentially catastrophic oversights. This three-part series, Deleading Industry: CYA Checklist is designed to help project managers and others catch oversights before they occur and to foster a culture of professionalism on the jobsite.
The Checklists in this series can help avoid the common mistakes that end up getting lead contractors in trouble with OSHA and other regulatory agencies. Often times these mistakes are not intentional. Frequently contractors run into issues when a step is forgotten, perhaps these checklists can prevent a mistake, and save some time, hassle, and money.
The Deleading Industry: CYA Checklist Series is a helpful resource for:
Abatement and Deleading Contractors
Project Managers
Facility Owners
Health and Safety Professionals
Above all, observe all applicable, federal, state, and local deleading and lead abatement regulations. This checklist is meant to serve as a guide and should never replace the legal advice or guidance of lead experts in your area.